Choosing Your Shade Sail Design
How to choose a shade sail?
There are many different factors you should take into consideration when choosing a shade sail. From the design to the fabric, there are a wide range of choices to pick from.
Choosing the design of your sailshade:
Flat Shade Sails
While technically possible, if using shade cloth fabric, a completely flat sail is structurally weaker and can sag over time. Trying to use waterproof fabric would result in a pool of water in the centre of the fabric. On a practical note, it can also catch balls and leaves etc.
Sloping Shade Sails
A simple slope doesn't answer all of the issues of a flat design, the fabric can still sag over time and potentially still catch leaves etc.
'Hypar' Shade Sails
The best shape for any sail is the 'Hypar'. Alternating high and low attachment points in diagonally opposed corners gives the sail a shape called a hyperbolic paraboloid 'Hypar'. Because the two high points are opposite each other, they work together to pull the sail up and out, while the low points pull the sail down and out. These opposing forces create tension in the fabric and suspend the centre, preventing sagging.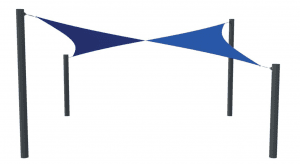 Triangle Shade Sails
One of our best sellers but often not the right design. A really stable sail needs a minimum of four attachment points with sufficient height difference to create a three-dimensional shape in the fabric. The amount of shaded area produced by a triangle shade sail can also be poor because of the narrow angles at the corners produced by the edge curvature.  You will always get more shade for your money with a rectangular design rather than with a waterproof shade sail triangle.
Other shade sail designs:
You may require a bespoke shade sail of a non-traditional design which we can supply, but we would not necessarily recommend for self-installation.
Sail-track edges
This type of bespoke sail shade is utilised for smaller installations that do not require a projection bigger than four metres, where a straight edge is required against a building. This type of bespoke sail shade requires greater tensioning and consideration should be given as to whether the fixing points are strong enough for the extra tension.
Double or cross-over sails
This design is generally generated from specific customer preference whereby shade sails overlap or are fixed on top of one another. Although, not for the first-time installer they can look striking when installed.
Side sail shades
This can work in a situation where the traditional shade sail design cannot provide the cover and protection required. It is imperative that the fixing points are solid and able to bear significantly higher loads than the standard design due to being exposed to higher wind loads. If you choose this design using any fixing points other than supporting posts, we recommend obtaining professional advice to ensure they can take the load.
For larger shade sails you can choose to mix designs, shapes, colours, and create patterns when using multiple shade sails.
Why are the edges of a shadesail not straight?
The edges of a sail are deliberately made curved so that when they are pulled taut, they attempt to straighten out, which in turn pulls the centre of the sail out. The pulling force is therefore distributed over the whole surface of the fabric.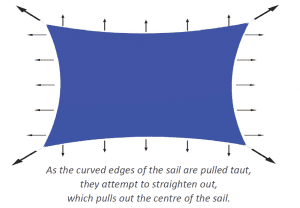 The curvature of the sail plus the length of the tensioning mechanisms mean the actual area of coverage will be less than the area between the uprights.
Is it possible to purchase waterproof shade sails?
It is possible to purchase a shade sail manufactured from waterproof fabric, but they are significantly more expensive, apply much greater strain on the fixing points and are best fitted by a professional.
A waterproof shade sail is made from the heavier PVC material and as such therefore requires greater tensioning. To install a waterproof shade sail you will need stronger fixing points and tensioning mechanisms as any winds could affect this type of shade sail more intensely. The waterproof sail shade can be more challenging to size and install accurately due to the material having no elasticity. We only recommend waterproof sails are used in a Hypar design (see above).
What are the colour options on a shade sail?
We offer a range of colours for you to choose from that not only include an array of colours but also offer varying degrees of UVR protection and shade factor. Our range of colours available is illustrated on the fabrics page.
How do I measure what size sail I need for pricing purposes?
We recommend that you install your supporting posts and/or attachment points/brackets first then measure the size of shade sail you require. Measurements between each fixing point are required, so for example on a four-sided sail there are four measurements on the perimeter edges and two diagonals, a total of six dimensions. At the pricing stage, these dimensions can be +/- 100mm. Please see our measuring advice sheet and use our measuring forms on our resources page when placing an enquiry. Once you are ready to order your sail, we will need more accurate dimensions, see further down.