"I just wanted to say thank you very much, you were very helpful with payment and delivery processing.
I have received the shade sail and installed it, and it fitted perfectly. I am delighted with it.
I particularly wanted to thank you for your time and thoughtful answers to my earlier questions as I was trying to understand the requirements for a large shade sail. I know this was a small order compared to large commercial projects, and greatly appreciated your time and help."
– Stuart Nixon
The Complete Shade Solution
As shade sail manufacturers, we offer a comprehensive range of architecturally designed custom-made shade sails that are at the forefront of innovation when it comes to shade solutions. With our extensive selection of exclusive, premium quality materials and industry-best warranties, we are confident that we can completely meet and satisfy your shade requirements. Our offering of standard and custom shapes and shade sail sizes are available across a range of designer colours to enhance your existing decor.
Understanding Shade Sails
Supplying premium quality sails throughout Europe, we're proud of our commitment to offering our customers the quality of service and the fair price they deserve from a UK company. If you have ever interacted with an overseas Shade Sail business, you know getting someone genuine to listen to you and offer the right solutions and best quality shade sail can be difficult. You can rest assured that you will be dealing with a company that understands your particular needs and will be there every step of the way to ensure complete satisfaction.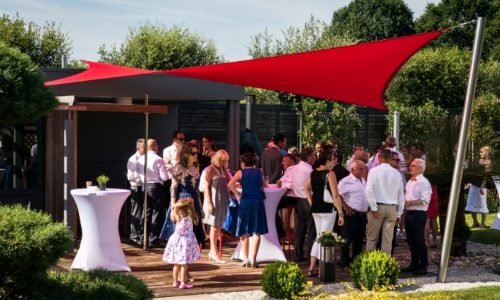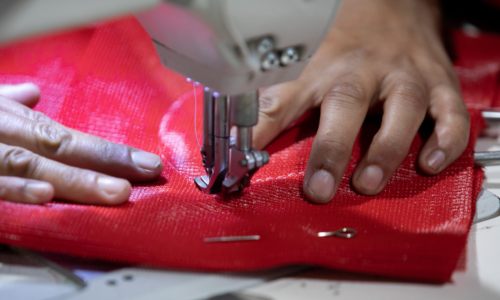 The Highest Quality
Unless you are looking for a single-season sail, quality should be your first consideration when investing in a shade sail. Low prices are no comfort if the product doesn't last, so we are here to ensure your return on investment is maximised. The architectural grade fabrics used in our shade sails may not be the cheapest on the market, but they will last much longer than available alternatives. We offer the best quality products with 100% recyclable, flame retardant, and UV, stain, dirt and grime resistant options using patented technology. All of our sails are engineered by our experienced team, using CAD designs and state of the art technologies. We're so confident in our commitment to industry-best products, that we offer industry-best guarantees of 10 to 15 year warranties.
Fast Turnaround
If you need your shade sail quickly, talk to us about your deadline. Utilising a streamlined process developed by an experienced team, we're able to turn around your order quickly and efficiently — meaning you get your order when you need it and at a fair price.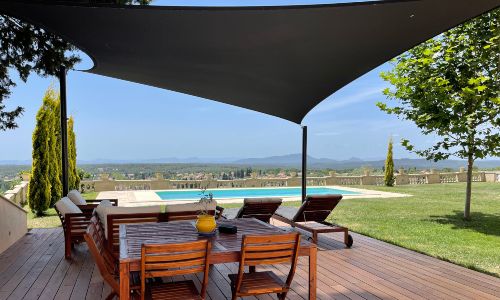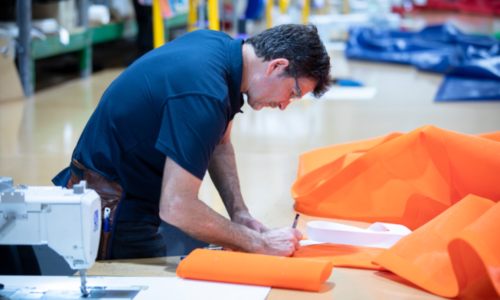 Wide Range of Custom-made shade sails
Designed and manufactured to precision, we offer custom-built shade sails according to the needs of your project. With an extensive range of designer colours to accommodate your desired style. Offering eco-friendly (100% recyclable) and premium grade fabric (the strongest shade mesh available), we promise world-class workmanship and the use of the highest quality materials to ensure a robust and long-lasting shade sail.
Ready-made Shade Sails
Our ready-made range comes in set sizes and a huge selection of designer colours, manufactured to your specifications when you place your order. These are heavy-duty sails that will comfortably withstand extreme weather, which is why we're happy to offer 13-15 year warranties. Available in a range of sizes and colours that will allow you to stand out from the crowd. Ideal for residential settings, our ready-made range has been designed for easy installation.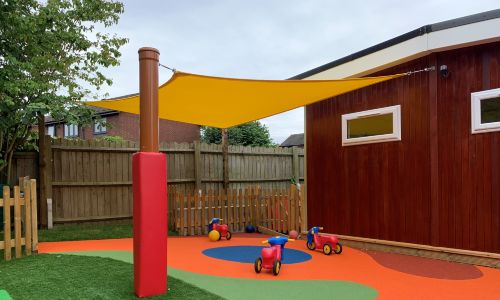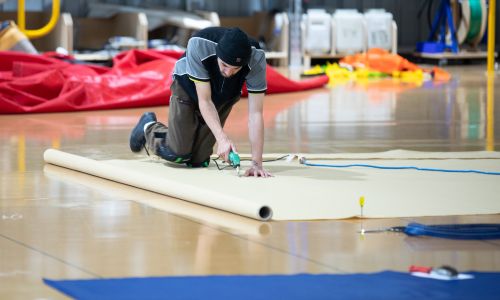 PVC Sails
Made bespoke to your exact specifications, we offer the largest collection of 3D architectural fabric membranes to comfortably shelter large areas. The durable fabric used provides robust stability and long-lasting use due to exclusive, patented technology. As with our custom-made shade sails, these are 100% recyclable, stain, dirt and grime resistant and available in a huge range of designer colours to suit your decor.
We offer a comprehensive range of architecturally designed custom-made sail canopies for gardens that are at the forefront of innovation when it comes to shade solutions. With our extensive selection of exclusive, premium quality materials and industry-best warranties, we are confident that we can completely meet and satisfy your shade requirements. Our offering of standard and custom shapes and sizes are available across a range of designer colours to enhance your existing decor.
Find out more about our shade sails and request a quote
A brief history of the Shade Sail
The sail shade in its most basic form has been around for thousands of years with the Ancient Egyptians, Greeks and Romans first utilising them. The modern day sailshade has evolved from the Bedouin tent whereby a canvas canopy stretched over supporting wooden poles and was held secure by guy ropes. The modern version of the custom-made shade sail started to gain popularity in the 1970s, where they were used as sun shades for patio areas in place of the traditional pergolas and arbours. Their use became more universal from the 1990s onwards as more durable and inexpensive fabrics were employed that also increased protection from UV light.
What is a Sun Shade Sail and how is it made?
Typically, a sailshade commonly comprises of a piece of cloth made from knitted monofilament HDPE yarns. If you have a greater budget and want waterproof shade sails, these are manufactured using flexible polyester PVC coated membrane.
The shade sail canopy is designed to be installed under tension by using curved sides, called 'catinary edges' of between 5-8% of the length of the sail. Once the sail is attached securely to its fixing points and the correct tension applied these edges, in trying to pull straight, hold the fabric tight and prevent the sail from any flapping or sagging. In each corner of the sail there is an attachment point, usually a ring, that will connect the sail to a fixing point (supporting post etc). Along the perimeter of the sail, you will find either sturdy webbing or steel cable depending on the type of shade sail you choose. The free standing sun canopy needs to have a tensioning device such as a turnbuckle between the attachment point on the sail and the fixing point on the post.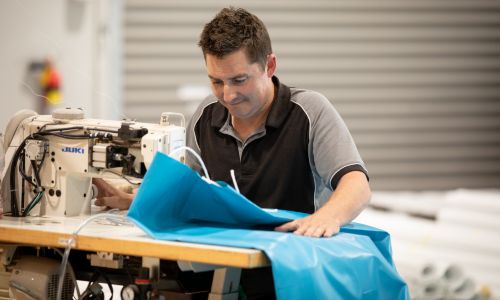 Why install a Sail Shade and what are the 

benefits of a shade sail

?
The main reasons for installing a premade or custom shade sail are:
1. Proven to block harmful UVR
The provision of UV protection during the hotter months of the year is now advisable in many situations and most summer outdoor activities require protection from UVR whether sunscreen, shade or protective clothing. The provision of a high-quality shade structure in outdoor areas where people can shade is arguably the safest protection there is. Bespoke shade sails can also be used to protect your property and vehicles; UVR is known to accelerate fading and deterioration of furniture, furnishings, and paintwork.
2. A cost-effective method of providing shade to large areas
Sun shade sails can provide a flexible and cost-effective solution and aside from domestic use, can be installed in a range of commercial premises covering large areas such as school playgrounds, swimming pools, cafes and restaurants, kennels, communal playgrounds, and car parks.
3. Lowers power costs and keep you comfortable
A garden canopy sail attached to your house can help moderate the temperature inside your house which can result in boosting your energy efficiency rating.
4. Aesthetically pleasing
Modern and inviting bespoke outdoor shade sails can increase the value of your home or set off your venue as somewhere special, a colourful commercial shade canopy can add interest and three dimensions to playgrounds.
  5. Flexibility in design
There are many shade sail design layouts to choose from as custom sun sails come in a range of colours, materials, sizes and shapes, options include right angle sail shade, triangle shade sails, rectangular and square shade sails.
6. Relatively easy to install
With a variety of methods of installation, standard shade sails or custom shade sails can be installed between posts or using an existing structure. Fixings are available for a wide range of options.
What is Ultraviolet Radiation (UVR) and why is it bad for us?
UVR is discharged by the sun and is undetectable by the human eye. It is UVR that causes sunburn and other damaging effects on the human body. Overexposure to UVR can also lead to skin cancer. UVR is most dangerous during the midday hours between 10am and 4pm. However, it does not mean the sun is any less strong when it is cooler. You can still burn on a cloudy day.
Whilst UVR in small doses can be good for us as it provides us with Vitamin D, research shows that getting sunburnt just once, between the ages of 15-25 years, can increase your risk of getting skin cancer. Whilst four sunburns can double your risk of skin cancer.
Shade Factor and UVR protection can be used interchangeably but they are not the same. A garden sail canopy with shade factor does not necessarily relate to UVR protection, you need to consider both Shade Factor and UVR Block when choosing a garden sun shade sail canopy.
What are bespoke shade sails?
Bespoke shade sails are custom made to your exact specification which can include the dimensions, material and configuration. They are a good option if you are looking to cover a large amount of space and want a high-quality product.
Things to consider when planning the installation of a Shadesail:
1. Is the shadesail the best option for me?
Custom-made shade sails are highly effective solutions for many settings but in a very few circumstances may not work. We have summarised the pros and cons for you when considering the purchase of sails for shade.
Custom shade sails are a cost-effective low maintenance solution.
Although we do not recommend removing your sail too regularly, it may be removed (depending on design) seasonally to protect it from snow build-up or ahead of any very high winds.
There is a wide range of colours, shapes, materials, and styles to choose from which allows for your custom sunshade to blend in or stand out. Bespoke shade sails allow for flexibility and can be custom-made as square sail shades and triangle 

sun sail shades

or to fit irregularly shaped areas. A custom-made shade sail will be an attractive feature in any outdoor space but work best in work well in symmetrical four (or more) sided shapes. You can also find 

waterproof shade sail options which are typically more expensive but increase the useability of the sail.
Large 

sun shades sails

allow for circulation of cool air creating ventilation and cooler temperatures. However, once any dimension is over 10 metres you should be considering whether it would be better to use multiple smaller sails.
Some coverage is lost due to the curvature of the sail and on outer corners where the tensioning devices are fitted. Sail shades do not work as well for non-symmetrical, thin areas.
Consideration should be given as to whether sails are the right solution for very exposed areas such as balconies or rooftops.
Sun shade sails are often a better solution than a parasol or awning, but while

waterproof garden sail canopy options 

do provide extra benefits, they should not be considered as a replacement for a fixed fully

waterproof sail shade

particularly where cover is required right up to a building.
2. Do I need planning permission to install a sail shade?
Each planning authority can impose different rules and regulations. Some authorities stipulate that any structure of a specific size will require approval, while others look more specifically at the location and other factors.
Some authorities may consider a sail as a non-permanent structure. While the material used to make the shade sail will generally not imply a permanent structure, the concrete used to secure the supporting posts could.
The vast majority of our clients do not obtain any type of planning consent, and while we are not authorised to give any legal advice on this, a common-sense approach would be to ensure you are not doing anything anyone would have reason to object to. Look at whether the shadesail will affect the view from, or light to, a neighbour's property. Consider whether the shade sail affects the appearance of the neighbourhood or be very visible from the road.
If a large shade sail is to be installed within a commercial setting, getting proper advice on this is important. Schools and hospitals benefit from different planning regulations and we are happy to advise further on this.
3. Should I purchase a ready-made shade sail or bespoke shade sail?
A readymade shadesail will normally be the most cost-effective option and available the soonest. Our range of standard size sail shades includes:
Equilateral Triangle Shade Sails – All sides are equal in length
3.7 x 3.7 x 3.7
4.3 x 4.3 x 4.3
4.9 x 4.9 x 4.9
5.5 x 5.5 x 5.5
6.1 x 6.1 x 6.1
Right-Angle Triangle Shade Sails – Right angled sides are equal in length
3.0 x 3.0 x 4.3
4.6 x 4.6 x 6.5
6.1 x 6.1 x 8.6
Square Shade Sails – All sides are equal in length
3.0 x 3.0
3.7 x 3.7
4.3 x 4.3
4.9 x 4.9
5.5 x 5.5
Rectangle Shade Sails – Different width and length
3.0 x 3.7
3.0 x 4.3
3.7 x4.3
3.7 x 4.9
3.7 x 5.5
These ready-made sails should not be confused with the cheap garden awnings and sails available online. If you want patio shade sails for under £300, then it is worth checking Amazon and other gardening websites and DIY outlets.
Purchasing a custom-made shade sail, sometimes called bespoke shadesail, will allow for more design creativity. It will typically result in a more professional finished, with each side being exactly the right size meaning you can cover all of the area you intended to and take advantage of existing fixing points. It will be custom-made to fit the precise area you are covering.
4. Can I install a sun shade sail myself and 
how to install shade sails

?

Many of our clients are trade installers but a typical size patio shade sail can be fitted by any competent person. The shade sail installation instructions on this website can guide you step-by-step on how to install your sun sail shade and what tools you will need. And of course, you can also choose to undertake certain tasks of installing your shade sail structure, while outsourcing other elements.
5. Where should I locate my shade sail?
You should consider the following when deciding where to position your garden shade sail:
Firstly, you should consider where the sun rises and sets on your outdoor space. The sun rises daily from the east and sets to the west. You will also need to take into account that during the autumn and winter the sun is lower in the sky.
You should plan the location of your sun sail shade to maximise the amount of shade you create in the summer months. Naturally, most people will visualise the shade sail being installed directly over the area they want shade such as an outside seating area. However, this will only work during the middle of the day due to the movement of the sun.
If you want the shade sun sail to provide shade in the morning then the garden sail awning will need to be moved towards the sunrise and likewise for the afternoon, closer to the sunset.
We suggest using chalk to mark the area you want covered and observe where the shadows project over that area to give an idea as to whether that location for your sun shade sail is optimal. You need to bear in mind that these shadowed areas will move depending on the time of year. If you want to look into this in more detail, there are some more options:
Use aerial photographs
Using Google Maps to view your property from above and looking at its orientation will often help.
Use an app on your smartphone
There are some good apps to help you locate the path of the sun all year round. Two of these are:
These apps use your phone's GPS and compass to display an accurate representation of the sun's path through the sky in your location.
Both apps have 3D augmented reality camera overlays as well as integrations with Google Maps.
Use an online tool
There are several good online tools for visualising the path of the sun at your location.
Model your site in 3D
Find My Shadow has a tool that allows you to make a simple model of your buildings and create a Bespoke Shadow Position Plot.
If you are particularly keen you can create a 3D model of your site in SketchUp. SketchUp comes with solar modelling and can show you how the sun enters a building or garden. There are lots of great SketchUp tutorials on YouTube.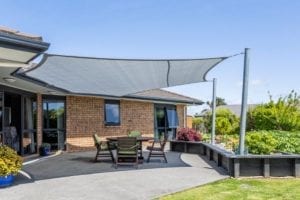 Strength of existing structures that could be employed as fixing points
When deciding to use existing fixtures as fixing points you need to consider whether they are structurally sound and can bear the heavy loads that will be placed on them by the fabric sail, particularly during periods of bad weather. We do not recommend using trees as fixing points for your shade sail.
Ability to install supporting posts into the ground
You will need to think about where is best to dig to avoid pipes, drains and cables etc when it comes to garden sail shades.
Location of BBQs, patio heaters, etc
Shade sun sails should not be used near a naked flame nor a source of high heat so do not position your patio sails near to or over your BBQ or firepit.
6. What type of sail edging is best?
There are essentially two different types of shade sail edging available to choose from for your deck shade sail.
Unless otherwise required this is our standard detail and makes for the most straightforward fitting. A perimeter webbing, sometimes called seat belt webbing, is sewn into the hem or directly on to the edge of the cloth. These shade sails require less tension to get them tight and are lighter and easy to store.
This shade sail is manufactured by sewing a hem throughout the perimeter of the sail shade and then inserting a steel cable into this hem. The cable will overlap on one of the corners. As the shadesail is tensioned, the cable slides around and finds its own natural position. Before any amount of tension is applied, the wire-rope grips are locked off and the tension is then transferred onto the perimeter cable. This design is widely used but requires a further degree of installation ability.
Garden Sun Shade
Many people choose to install a shade structure in their own gardens to add a source of shade. This allows you to spend more time in your outdoor space, not only throughout the summer but in the spring and autumn months too. Sun shade sails are a popular choice because of the flexibility they provide, allowing you to have partial shade when you're hot and direct sunlight when you choose.
A garden sail can be easily installed without the need for a professional, some design options even allow you to secure the fabric to trees with ropes for a subtler look. They are also a cost-effective alternative to the more traditional garden gazebo and so are ideal for those looking for shade products on a budget.
If you're a budding gardener, expert landscaper or even a chicken farmer sun shades are an ideal addition to your plant beds and patches as you can adjust the fabric to achieve the optimal degree of shade. Or if you're a regular host, adding some shade to your outdoor dining space will help keep your guests cool and comfortable. Looking for garden sails made to measure? Get in touch with us today to find out how we can help you to create a made to measure garden canopy and visit our gallery page for garden sun shade ideas.
Can plants grow under shade cloth?
Yes, provided that the plants enjoy the shade then they can continue to grow healthily while underneath a shade sail. In fact, plants that grow in the shade often have larger leaves and can grow taller.
Can you use a garden sun shade in winter?
Although commonly used throughout the summer, you can also use your shade sail throughout the year into the winter months. We recommend that you take the sail down during periods of bad weather, including snow!
Our Commercial Sun Canopy Options
Our wide range of commercial sun shade designs are popular with many clients across the country, from restaurants to playgrounds to outdoor swimming pools. More and more sites are choosing to install commercial waterproof sail shades to get better use from their outdoor spaces, whether that's to add shade to a seating area for a cafe shade sail or protection to a walkway. Our team can work closely with you to understand your requirements and propose the ideal commercial sail canopy for you. Over the past 40 years we've installed a range of shade solutions, from a pub garden shade sail to bespoke outdoor seating area cover at public attractions.
With an extensive range of colours, materials and designs to choose from, you'll be able to create the ultimate shade sail for your space. And thanks to the high quality manufacturing process we use, you'll have peace of mind that you're getting the best product for your money. Concerned about using your shading solution in wet weather? We also offer commercial waterproof shade sails which are especially popular with our customers looking to replace their cheap parasol products for a more effective option.
To get a price for your shade sails, click here to use our online pricing calculator. Or if you're looking for bespoke shade sails or made to measure sun shade sail options, use our contact form to send a message to our design team.
How much do commercial shade sails cost?
Our range of commercial shade sails varies in price depending on several factors including the size and material of the sail. Our sail shades start from £770 and can go up to £7,800 for the largest of options. If you're looking for a price for your commercial shade sail project, you can use our online pricing calculator.
What are sail shades made from?
Our sail shades are either made from a waterproof PVC fabric or a shade cloth option. With both choices we only use the highest quality of material to guarantee you an effective shade sail.
Frequently Asked Questions
How much does a shade structure cost?
The price of your shade sail will vary on several factors, including the type of material and the size of the sail. Our custom made sail shades start from £760. To get a price for your made to measure sun sail, use our online pricing calculator.
How long do sail shades last?
The fabrics we use to manufacture our shade sails are of the highest quality and will last for much longer than other, cheaper alternatives that are available.
However, we do still recommend taking your sun shade canopy down during periods of harsh weather conditions and regularly clean it with warm, soapy water.
What are the best shade sails?
If you are looking for the best sun shade for garden, there are many outdoor sail shade options available on the market, with a wide range of colours, fabrics, sizes and posts to choose from. If you are looking for a garden shade sail or a restaurant shade sail to last for many years, then it will be worth investing in a good quality product from a specialist supplier. Especially if you want made to order sun shades. But if you just want a temporary solution for the summer, then there is a great choice of cheaper sails from many online shops.
Are shade sails easy to install?
Are shade sails expensive?
Because there is such a huge range of garden sail shades on the market, you will also find there is a huge range of pricing. You will be able to find cheaper options for around £20, but some of the higher-end heavy duty waterproof shade sail designs can up to £8,000.
Do shade sail posts need to be angled?
Yes. When installing your garden canopy sail you should angle the posts away from the centre of the sail by at least 10 degrees. This will give your sail stability and help it to withstand the wind.
How much wind can a shade sail withstand?
If installed correctly, a shade sail should be able to manage fairly strong winds but it's widely recommended to take your sail down when strong winds or a storm has been forecast.
How to measure for sunshade sail
It is very important to measure correctly when you are purchasing a shade sail, whether this is for your garden or a commercial site. With the wrong measurements, the sail may sag in the middle or not reach your fixing points at all. We've put together a full guide which will help you to take the right measurements for your shade sail.
What is the best colour for a sun shade?
Whether you are choosing a premade or bespoke shade sail, we offer a diverse range of 15 colours to choose from. The best colour for your shade sail will depend on several factors, including whether you want the sail to match an existing colour scheme in your garden or if you're looking for a garden canopy to keep you as cool as possible. To find out more, speak to our expert team today for advice.
What material is sun shade?
We offer two material choices with our sun shades for gardens, a PVC waterproof fabric or a shade cloth material. All of our sails are made with the highest quality material, specially designed to stay sturdy and stable.
How long does sun shade fabric last?
If you're worried about how long do sun shades last then you can enjoy peace of mind as our shade sail fabrics come with an industry-leading 15 year warranty so you'll be guaranteed to get many years of use from your sail.
Is shade cloth waterproof?
No, we would not recommend leaving your shade cloth sail up in periods of wet weather as this can damage the fabric. If you are looking for waterproof sail shades, we do offer a PVC waterproof option, which can withstand rain.
How do I choose a sun shade sail?
With so many options available, it can be difficult to know which shade sail to choose. Generally, we recommend picking a 'Hypar' shade sail, this is where the sail has alternating high and low points which create tension in the fabric and prevent sagging.
What is the best sun shade sail to buy?
This depends on what you intend to use the sail shade for. If you want a simple canopy for your garden to last the summer, you should be able to find premade garden shade sails online to fit your dimensions. But if you're looking for a large commercial sail, it's worth speaking to a shade sail manufacturer directly to ensure the design will suit your requirements.
Are shade sails easy to put up and take down?
Yes, we recommend that you take your garden sun shade sail down to clean it every three to six months. We also strongly suggest that you take it down during periods of poor weather, as it could become damaged if left exposed to the elements.
Do sun shades block rain?
Yes, we offer a range of waterproof shade sails with our PVC fabric sails.
 What can I use to support my shade sail?
As sun shade sail manufacturers, we would recommend using custom-made supporting posts, but you can use existing structures such as walls, fascias, garden structures and buildings as fixing points. However, judgment is required when using any structure that is not a supporting post due to the load that can be placed on existing structures, particularly when there are strong winds. Not only should you consider the potential damage to your sail awning, but also to any existing structure. If you do choose to use existing structures for the domestic shade sails you should ensure they are structurally sound.
What should the shade sail posts be made of?
Although treated timber can be a more economical solution and will work for sails under 16 square metres, we always recommend using steel columns for the main supports of your sun sail canopy.
The obvious rule of thumb is that the larger your canvas sun shade, the larger the supporting posts will need to be. One of the most common mistakes made when self-installing large garden sun shades are that supporting posts are simply not deep enough in the ground or that the material the posts are made from is not strong enough. We have further advice on post and foundation sizes here in our resources area.
If I choose a Hypar design what height will the supporting posts need to be?
The lowest height of the garden sail posts should be whatever you are happy with but we say 2.1 metres above ground level to account for tall people, and so that the shadesail does not feel on top of you when you are under it. There is then an easy formula to use to calculate the height of the 'high posts.'
Take the length of the longest side of your shade sail and multiply it by 20%, for example, if it a 5 metre by 4 metre:
5000mm x 20% = 1000mm
You will then need to add 1000mm to the height of your low post. You can, of course, use a greater difference if you wish. For waterproof fabric, you should use 25%.
How do I measure the accurate fabric sail size for manufacture?
A vital part of the process to get accurate is obtaining the measurements of the sail. For the purposes of this guide, we will use a Hypar four-point sail. This task requires two people and a tape measure that is long enough to measure the longest diagonal.
Firstly, you will need to allocate one attachment point as Point A. Working in a clockwise direction, apportion the outstanding attachment points, Point B, C and D. You will then measure the distance between Point A and B, B and C, C and D and D and A covering the perimeter of the sail.
Next, you need to take diagonal measurements by measuring the distance between Point A and C and B and D.
Measurements should be taken from the inside edges of the eyebolt (sometimes called the pulling face). Do not try to allow for the tension mechanisms/shackles as we make allowances for this in manufacture. If you have an existing sail to measure off or have your own mechanisms then you can give us the overall corner to corner measurement of your sail, but we won't be able to take any responsibility for this not fitting.
The last measurements are for the height of each of the posts, measured up to the eyebolt due to the need for 3D projection, particularly for designs such as the Hypar. You will need to ensure that the land is flat, and if this is not the case then you will need to create a piece of string and run it around the posts ensuring it is level by using a spirit level. Accuracy of the actual post height is not as critical as the difference in heights between them.
Please see our measuring advice sheet and use our measuring forms on our resources page when placing an order for garden shade sails. Once ordered, we will take care of the manufacturing process deliver your sail shades direct to your door.
How much does it cost to install a sail shade?
If you are looking for a professional installation of your shade sail, prices tend to start around £1,000.
What do I need to consider when ordering a shade sail?
When purchasing your sunshade sail you should evaluate the following:
The material – While we could go into great detail about the composition of various fabrics, this guide is written mainly for the DIY customer installing their own garden sails or 

waterproof shade sail with posts

. Our simple advice is to look at material weight, this is given as a (GSM) (grams per square meter), and the length of warranty on the fabric. If in doubt ask for a sample, don't buy from a company who can't or won't send you a small sample.
The stitching – You need to ensure that the stitching on the sun shade sail is of high quality and you can do this by ensuring the manufacturer uses a PTFE quality thread in the stitching. This type of thread is more expensive, but it will contribute to the longevity of your sun shade sail. There is little point using high-quality fabric if it is stitched together with thread that will fail.
The Corners – The perimeter webbing or cabling is affixed to a ring that should be made of stainless steel and be heavy duty. A webbing strap sewn into the material of the shade sun sail supports the ring and keeps it securely in place. You should also look for supplementary stitching in the corner to provide extra support and overall neat workmanship as these are all indicators of a good quality sun shade sail.
What fixing accessories will I need?
Tensioning Devices:
Each fixing point will require some form of tensioning mechanism. Our preferences are stainless steel Rigging Screws, also known as Barrel Strainers, Tensioners, Turnbuckles, Bottle Screws or Adjusters. To achieve the required tension, the mechanism is unscrewed allowing for one end to be attached to the eyebolt and the other to the ring on the shadesail. When it is screwed back in, tension is applied. To out how to how to tension a shade sail, click to see our full guide on the installation process.